Mission & vision
Everyone is welcome
---
The Haarlemmermeer Lyceum is a public school for everyone. Ethnicity, religion or belief don't matter to us. As long as you respect our norms and values, which include responsibility, tolerance, justice and honesty, you are most welcome!
One Haarlemmermeer Lyceum, two locations
---
HLML Bilingual
Location vwo-havo-mavo
Bilingual education
International and diverse character
Beautiful and spacious school building
Recognised Top Sport Talent School
HLML Dalton
Location vwo-havo
Dalton education
A small-scale, stimulating learning environment
Beautiful and bright school building
Recognised Top Sport Talent School
There are three things that we find very important at the Haarlemmermeer Lyceum: learning, personal development and the school climate.
HLML School map
Vision Haarlemmermeer Lyceum Bilingual
---
In our HLML House of TTO you can see that we offer more than a Dutch diploma for mavo, havo or vwo through our educational offerings. Because while obtaining a diploma is an important step towards the future, today's society demands more from the individual and the collective. Therefore, based on a solid and secure foundation, we pay much attention to internationalisation (global citizenship), personal development and language skills, in addition to subject-based education. These are the building blocks of our vision of education.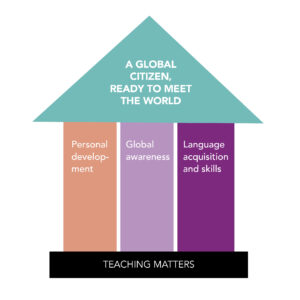 Good education entails more than just guiding students towards a Dutch-language diploma.  Quality education prepares pupils to participate actively in the world. To achieve this, we place an extra focus on language, world citizenship and personal development. The result is a Dutch diploma combined with an open, critical and empathic view of the world and an ability to communicate competently, with integrity and with honesty.  
Haarlemmermeer Lyceum Bilingual offers a challenging and international learning environment where students and staff can develop to their full potential. The IB learner profile is the guiding principle here. Challenging & Inspirational. Students learn to communicate effectively at an international level and learn to push their limits inside and outside of the classroom. Crossing borders together (is better). Teachers are not only good at their subject, but they are also able to work in a cross-curricular manner and make a national and international contribution enabling students to discover the bigger picture. Result matters and development counts.
Vision Haarlemmermeer Lyceum Dalton
---
Haarlemmermeer Lyceum Dalton would like every student to learn with enthusiasm and get the most out of their time at school every day. The Dalton core values are the basis for student development for teachers, students and parents.
The core values are:
independence
responsibility
freedom
cooperation
reflection
effectiveness
Every student is unique
Learning is at the heart of our lyceum. Whether it is about acquiring knowledge, insight or skills, students are constantly motivated, stimulated and challenged by our expert staff to get the best out of themselves. In addition, they get the chance to work on their social and emotional education and we make them aware of their responsibility for a liveable society. And because each student has unique talents and characteristics, their personal development is always a priority at our school. Of course, students can only develop properly in a safe school where they feel comfortable. Our lyceum therefore considers the maintenance of such a safe school climate as a basic requirement for good education.